What do you get when you partner the top game designers in the country with one of the hottest webcomics creators around? You get Skybound's party game No Context! Designers Banana Chan and Jason Slingerland join digital comics maestro J.L. Westover (of Mr. Lovenstein fame) for this tabletop extravaganza. No Context allows players use the storytelling language of comics to defeat their opponents. Here's the official details…
Today Skybound announced the upcoming retail release of No Context, the totally logical party game designed by Banana Chan (Deimos Academy) and Jason Slingerland (Unreal Estate), featuring the artistic talents of webcomics superstar J.L. Westover (Mr. Lovenstein Presents: Failure). No Context will be available for purchase in stores nationwide on May 31, 2023 at a MSRP of $24.99.
Take risks and score big or play it safe and bide your time! In No Context, players must make connections using random art leading opponents to guess their card while deducing their opponents' cards. Players must explain themselves after each round. Hearing the thoughts behind why each player made the connections, without context, is sure to collect big laughs from the group!
"I never thought that one day my art would be used as a tortured form of communication like some sort of anarchic hieroglyphics," said J.L. Westover. "No Context takes random panels from my comics, jumbles them up, and generates bigger laughs than my comics ever did. Watching people connect the dots between a knife wielding cat and a donut is truly a sight to behold. It's wild that such a fun and silly game can reveal the innermost depths of your friends' minds."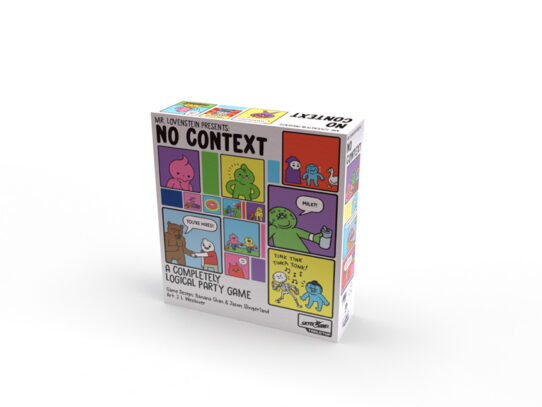 No Context continues J.L. Westover's partnership with Skybound, which began with the hugely successful 2021 Kickstarter campaign for Mr. Lovenstein Presents: Failure. The campaign garnered worldwide media coverage and earned $225,000, making it a top 10 webcomics graphic novel campaign of all-time. Westover's next crowdfunding campaign with Skybound, Mr. Lovenstein Presents: Feelings, will launch on Kickstarter this summer.
"My favorite part of developing this game is the stories that players tell at the end, when they are trying to explain what their thought process was when picking the images that they are placing under 'yes' or 'no,'" said Banana Chan. "It might seem so obvious to the person placing the images to describe their target image, but it really goes to show how differently we all think and envision things!"
Banana Chan recently won Designer of the Year at Dicebreaker's Tabletop Awards 2022 for their impressive body of work that includes games Jiangshi: Blood on the Banquet Hall, An Exquisite Crime, and the Dune RPG.
"My favorite thing in No Context are the reactions from players when they are so incredibly sure they know what another player is describing only to realize that they had absolutely no idea what the actual answer was," said Jason Slingerland. "Those moments always seem to create laughter instead of frustration and that is the real magic of the game. I'm most proud of how easy the game is to understand and immediately start playing when you sit down. The system is very simple, yet very devious."
For over a decade, Jason Slingerland has been both designing tabletop games and podcasting about game design on his weekly documentary podcast Building the Game. His other work includes Into the Black Forest and the recent release Tir Na Nog.
Following the recent releases of Whine Night and Boo-ty Call, No Context joins an exciting slate of new social party games launching from Skybound in 2023.