Fan-favorite comic book artist Dylan Burnett makes his debut as both writer and artist on Skybound's Arcade Kings, the first issue of which arrives in comic shops today. As Burnett tells us in the following interview, the new series channels his twin pop culture loves — fighting games and manga! Read on for the story behind this new big-hearted, bro-bonding, beat 'em up book…
What did you discover first — comics or video games? 
I kinda got into both around the same time, now that you mention it. I remember my dad bought me my first comics, and my cousin first showed me Zelda in the same year, and those both sealed the deal.
How did both comics and games impact you? What were your favorite titles and creators growing up?
They just got me excited about drawing, and about creating my own stories, basically just excited to escape reality. My first favourite comics were The Long Halloween, Young Justice, and anything with Robin. The first manga I got was volume 1 of TRIGUN when I was about 12. Later I discovered Akira, Shaman King, Dragon Ball, and some more Western comics like Savage Dragon and Hellboy.
With regards to gaming, Zelda and Final Fantasy were massive for me as a kid, and still are. Though, one of the biggest of all for me was Street Fighter. A friend down the street had a Super Nintendo and a Dreamcast, so we played a lot of SF2 and Capcom vs SNK. As soon as I saw those awesome animations and character designs, I was in.
Did anime and manga play a big role in your development as an artist? Like Paul Pope, your work appears to combine the best traditions of both eastern and western comics
Thanks! And yes, a huge role. There's a very distinct flare and flow manga has that a lot of local books do differently. Though, more Western comics are so varied and fun thanks to artists like Daniel Warren Johnson, James Harren, Ken Niimura, Corey Lewis, Bryan Lee O'Malley, just to name a few of my favourites! I've been inspired by them and manga creators like Katsuhiro Otomo, Taiyo Matsumoto, and Hiroyuki Takei in past and present works.
One of the biggest artistic influences for me, and especially with Arcade Kings, is classic Capcom game art. Daigo Ikeno, Kinu Nishimiura, Shinkiro, Akiman, Edayan, and Bengus built the imagery of Street Fighter and all those Capcom characters I love. Definitely my favourite artwork in all of video games.
How did you first turn pro?
A combination of working hard, being ready at the right time, and lots of luck. I was fortunate enough to work with a bunch of really great writers early on, and all those connections lead me here today. I'm very thankful to be where I'm at now, and to have had a lot of really supportive people lift me up!
How did you come to work with Skybound? 
Jon Moisan approached me in 2019 and very kindly invited me to pitch him something. After finishing a few projects, I was finally able to put this story together, show it to a few friends for feedback (thank you all!) and then send Jon and Sean an email. They were super nice and they liked it and here we are! I was obsessed with Invincible when I was 18, so it feels like a full circle moment, haha.
For those new to Arcade Kings, how would you describe the book?
Two estranged brothers attempt to leave behind their old lives through video games and punching bullies. Just an emotional, action-packed friendship hug to fighting games and arcade brawlers. I hope you'll enjoy it!
What inspired the book's story?
I've always really loved the idea of two protagonists with somewhat parallel journeys, which is something I think a lot of video games excel at. Once I homed in on that 'Player 2' idea, the emotion of the story took shape, and it stopped just being a book about a weird looking kid beating up robots and playing Tekken (though, that still sounds pretty cool to me).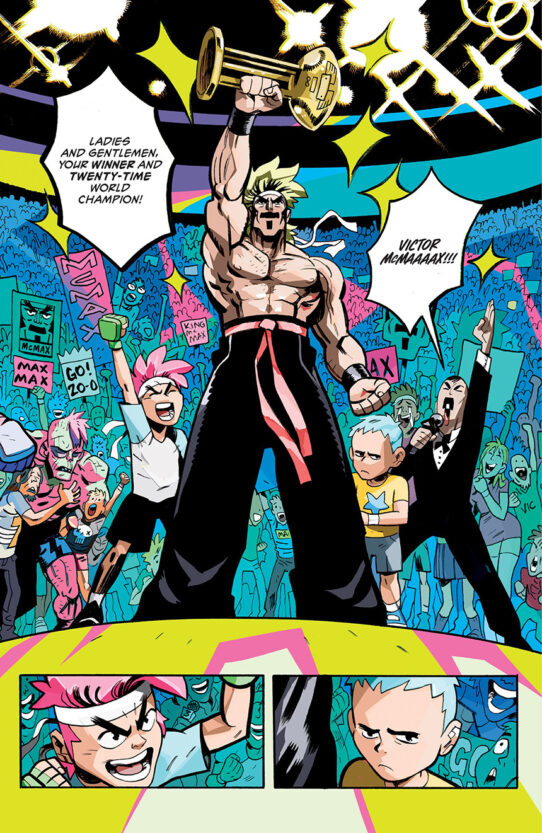 With Arcade Kings, you've evolved into a total cartoonist — both writing and drawing your own book. What has that experience been like?
Scary. But I really love it. I was a bit worried my process would get too messy with the addition of scripting and stuff, but thankfully I have a great editor (Amanda!) and letterer (Andworld Design!) and colourists (Walter and Sara!) and a whole team of people that all bring so much to the book. They're the best!
Part of the charm of your work is its improvisational energy. How tricky is it to maintain that with your writing? How far in advance are you plotting Arcade Kings? How much world-building are you doing?
Thank you! It can be really tough, I guess I just try to make the dialogue as natural as possible, and try not to over-explain anything. It definitely helps to have people I can bounce ideas off of. My favourite stories are the ones that leave the unimportant details out. The whole plot was done before ever officially starting anything, but details will usually change here and there along the way. I try to embrace it and take notes as best as I can. I'm still learning, and that's neat!
How long would you like to see Arcade Kings run?
Tough to say! I have a bunch of ideas for where it could go if given the opportunity, but I'm trying to just focus on the current 5 issues and make them the best they can be!
You've also cited punk music as a big influence. Who are your favorite punk musicians?
I grew up with that whole wave of the 90s and early 00s, but the ones I've always come back to are the Descendants. These days I think my playlists are mostly filled with gaming soundtracks and the Cure.
What else are you working on now?
Nothing! No time!
Thanks so much for taking the time to speak with us, Dylan!
Thanks for all the great questions!